We are at an incredible crossroads in real estate.  The Corona-19 virus has decimated complete businesses, we are experiencing all-time low interest rates, there's a change in social norms resulting from working virtually from home, that has resulted in increased inventories driven by vacant commercial offices and government mandated isolation orders. As we reflect back on 2020 in the future, this may very well be the perfect time to have made a move in real estate.
It also has me unsettled about the future.  We've increased our national debt to over $23 Trillion, and debt exceeded the GDP for the first time since 1947.  Our unemployment rates remain stubbornly high due to Mr. Covid's visit, inflation has remained stubbornly low because of a weak economy, and our production rate has topped out. This all gets me nervous.
But let's chat about lighter subjects.  Lynn and I have been using our lockdown time together to learn about the huge assortment of real estate tools available through Compass.  How about a weekly detailed and comprehensive review of real estate in your neighborhood? Go and click on any of these five neighborhoods.  I have a growing list of friends and clients who want these mailed to them every week, which I'm happy to do. Just send me a request and tell me which neighborhoods you want.  (any neighborhood or zip code, not just these five)
BRENTWOOD
CENTURY CITY
WESTWOOD
BEVERLY HILLS
SANTA MONICA
How about some dynamic information in your neighborhood? What if charts and graphs and data are not your thing and you just prefer to see what's for sale or what homes just closed escrow and at what price? Or maybe in your condo building?  Using Compass Collections, I can create a dynamic collection of real estate that changes every day, as properties are added, properties sold, properties enter into escrow. It's amazing and gives you all the information you would ever want to know about each home or condo, in a row-of-three format.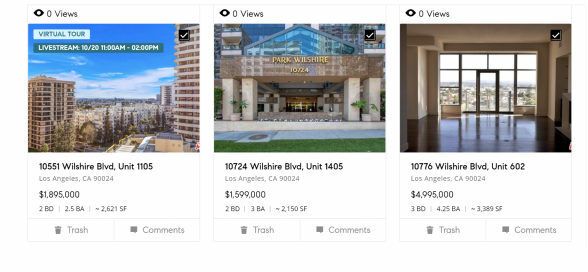 It's far more complete than the MLS and easy to set up.  Send me a note if you're interested.  No obligation and easy to do. Just tell me what zip codes or areas, budget or street or bedroom counts. And whether it's condominiums or single family residences or income properties.
Real estate is an essential industry, according to our governor.  We've seen a huge increase in business since May, when the world figured out that the earth was going to continue turning on its axis even during Mr. Covid's visit. After being isolated in one place for so long, people are anxious for a change, and business increased exponentially.  With increased business comes increased opportunities to get sick by being exposed to more people. We practice incredibly tight protocols, and my skin is getting rough from washing twelve times a day. But we march on and do what we love. If you want to talk real estate, give us a buzz. We love it.
— Mark Rogo
October, 2020