Here we are, starting the 3rd year of this visit by Mr. Covid. The first question that comes to my mind is,
"How does this affect my rugged good looks and fabulous physique"?
But let's go to the more important second question; "How does this effect the real estate market"?
I. THE PSYCHOLOGY OF REAL ESTATE
Real estate is largely a big-ticket transactional business with an emphasis on psychology. There are many reasons why one buyer dislikes a particular home and the next buyer can't sign the purchase contract fast enough, all of which we attribute to personal taste. But dig deeper. It goes to the psychological perception of style and scale.  It centers around our perception of peer approval, functionality in our lives and lifestyles, and of course our budget. Most importantly, it's how the property speaks to us. Like it or not, when you go shopping for property, you're listening and it's talking, just not in terms you're used to.
What happened in real estate during the pandemic?  What factors played into the psychology of buyers and sellers? What will they tell me about buyers and sellers as they work their way through the process of a real estate transaction? Or how about those people that decided against going into a transaction, all due to Mr Covid's visit? I decided to look at the numbers again; they never lie.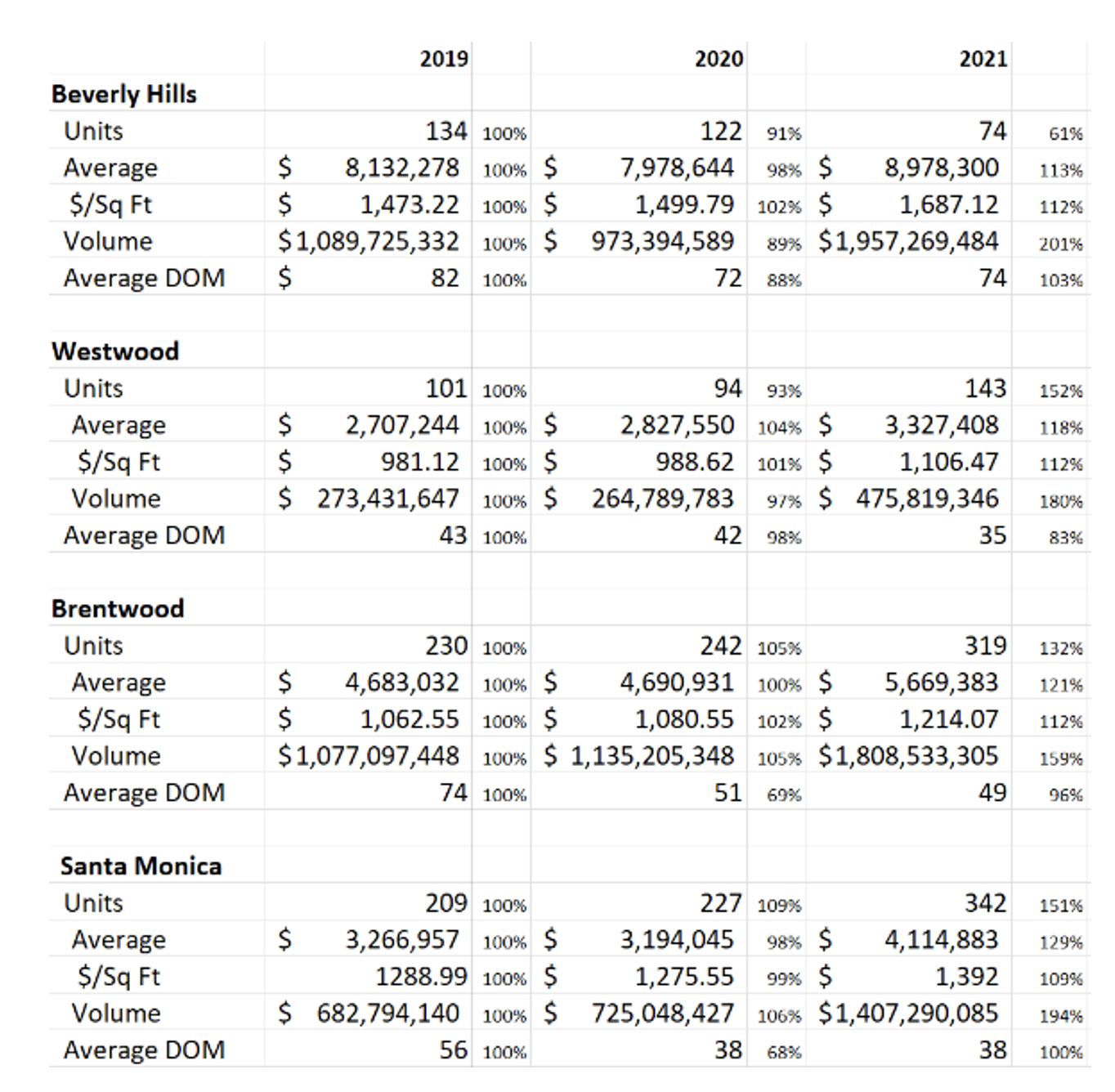 These are the stats from the MLS, representing single family residence homes as entered on the date they recorded in the assessor's office, in these four communities (Westwood is zip codes 90024 & 90025 only).
I want you to look at the Units sold on the first line. The gap between 2019 and 2020 is standard, but In three out of four areas the gap to 2021 compared to 2020 shows how different the attitudes changed from buyers and sellers. The percentages are compared to the previous year. This speaks to me. It says 2019 was the last "normal" year, 2020 represented our struggle to come to grips with our "new reality", and 2021 was the beginning of that acceptance.  Beverly Hills is the exception, as is commonly the case. But you can see how unit sales rose in the other three communities, days on the market dropped dramatically and average $/SqFt also rose but at a lower pace.
Unlike commercial real estate transactions, residential decisions are highly emotional, purely psychological and ultimately voluntary. There's never issues like Uncle Sam and IRC1031 exchanges standing between seller and a huge tax bite. Even in this tight market, buyers still have choices. They just need to widen those choices by lowering their expectations.
These numbers say a lot more.  They tell me that real estate in the right location will continue to be an excellent investment, continue to rise in value and continue to add to your net worth. Even in the worse pandemic in over a hundred years.
II. INFLATION
For several years, I've talked about inflation. It's late, but it's here and is roaring back with a vengeance. Our smartest clients are the ones who are pushing up their real estate decisions in order to beat the upcoming rate hikes. We've even seen an inordinate increase in the number of unmarried couples and single adults submit offers. CNBC confirmed this in an article that stated,
"…65% of single female prospective homeowners said they would rather not wait until marriage to buy a home. What's more, 30% of current female homeowners purchased their homes while they were single. The median existing home price in the U.S. was $358,000 in December, a 15.8% increase from $309,200 in December 2020. If interest rates rise a full percent up to 4%, but prices rise 5% to $375,900 – not 15.8% ($414,564) – the monthly payment on a 30-year mortgage rises to $2,892/month.  If interest rates stayed at 3% and pricing jumped 15.8% (to $414,500) again that monthly payment would be $2,854/month, a $38 difference. Higher rates will more than likely fuel smaller price increases." (CNBC)
Just as a side note, I disagree with this assessment on pricing. This applies to the United States of America, not just California, and especially not for the westside of Los Angeles.
Higher inflation is not just a U.S. experience. It's all over the world and especially in the European countries. According to the Financial Times,
"Consumer prices in the Eurozone rose by a record 5.1% in January from a year earlier, keeping inflation higher than expected and increasing the pressure on the European Central Bank to respond with tighter monetary policy. Also worth remembering inflation did not begin in 2021…..it GREW notably. Inflation – although much, much lower – has been around for decades."
If you're invested in real estate, then you probably have tenants. In that case, inflation is your friend. Higher inflation rates lead to higher annual rents in allowable increases in rent-controlled areas, and that's also reflected in the general marketplace for non-rent controlled buildings. Either way, inflation boosts rents which results in added income streams in an investment that has mostly fixed costs, so your yields increase dramatically. Higher inflation will also result in many buyers being forced to revert back to renting, thus increasing the number of renters and also forcing up rents as demand exceeds supply.
Our Compass Chief Evangelist Leonard Steinberg (yes that is his official corporate title) puts it this way,
"The other day I heard a theory from a client:  he suggested large corporations and investor entities were purposefully buying up large swaths of single family homes with billions of corporate/investor funding in the HOPES of rising interest rates that could force more buyers to turn to renting for life….. by limiting supply, this would keep home prices high, and rising, further diminishing the prospects for owning a home.  Certainly one theory worth watching…?"
This might be good for our investment portfolio, but it's not good for the country. Take a look at this chart and you can clearly see what the incremental difference will be in each of the upcoming rate hikes on their way. (this assumes a 30-year amortization, interest + principal).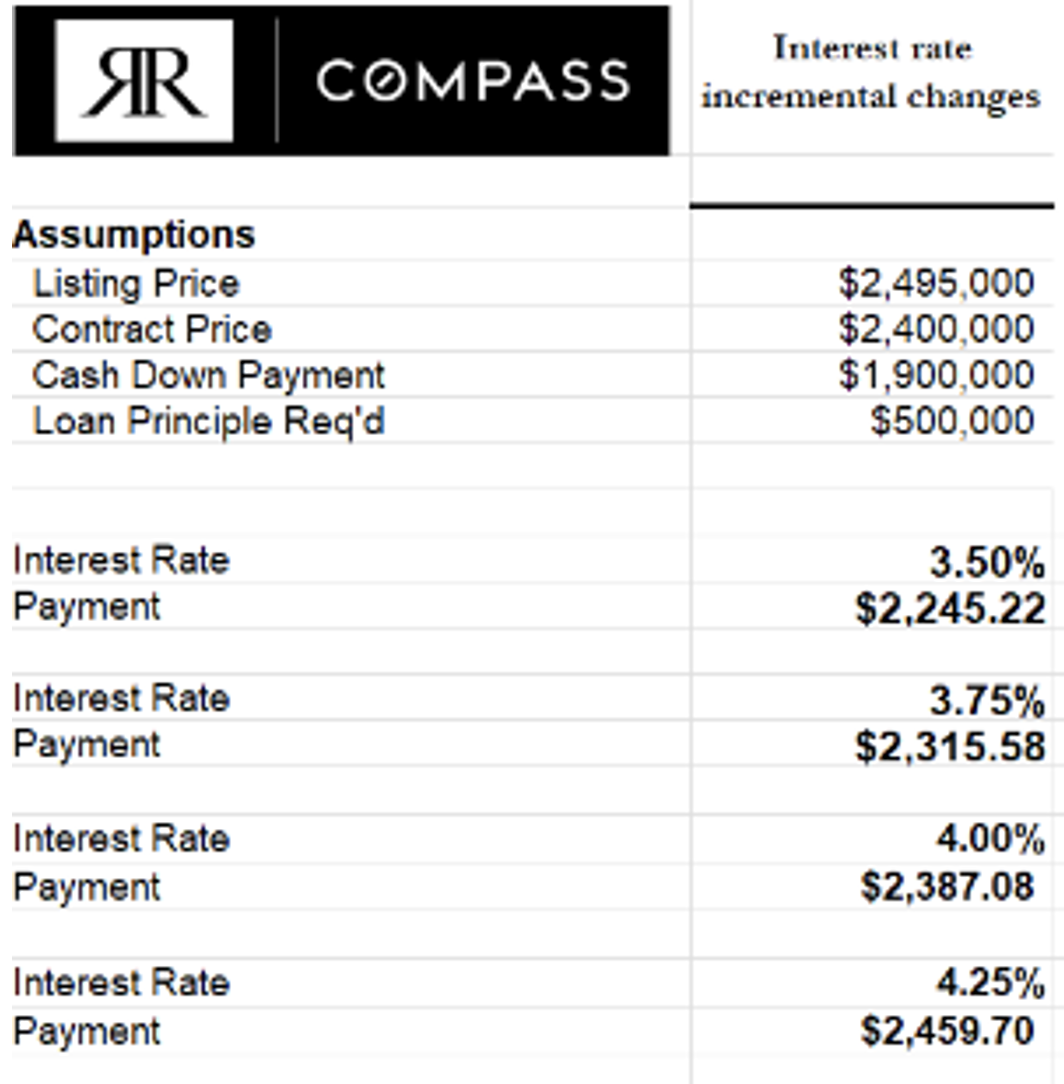 This is going to be a fascinating year for Lynn and I in real estate. We are going to battle the villains of inflation, the depression that comes with lowered budgets and the voracious gap widening between buyers and sellers.
I'm going to love 2022.