Dear Friends,
The New Year has started and is well on its way in real estate. With only two months under our wing, we have discovered three truths; (1) inventory remains at historic low figures but is slowly trending upwards nationally as more properties hit the market, (2) this year promises to be the battleground between full service and discount brokers, and (3) this year also promises to be the battleground of agents struggling to maintain market share with most of them ultimately destined for other careers.
Let's tackle the first item. Let me start by repeating something I've said in the past; real estate in West Los Angeles is unlike anywhere else in the United States. We don't follow the national norms. Our gods of supply and demand are much stronger, fight against each other more vigorously, and the battles are fraught with deceit and treachery because so much is at stake.
Sales in the Westside at $5,000,000+ and $10,000,000+ are excellent measures of the state of the economy here, or so one would think. They represent neither the lower nor the upper end. They do represent one of the most passionate battlegrounds between seller and buyer. The demand for properties in this arena seem never ending, an insatiable appetite that shows no sign of dissipating. Look for yourself as we exited the Great Recession.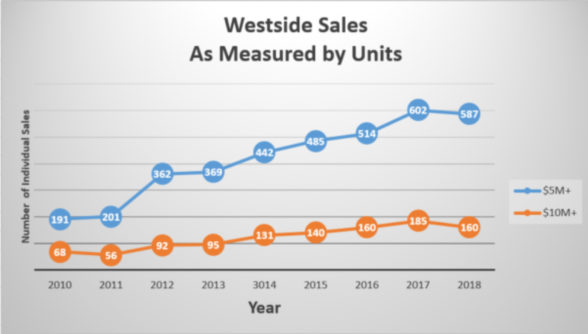 Sales of $5.0M and over have risen at a steady pace, but as you can see the sales of $10M+ remain flat. More agents chasing fewer individual transactions. The market remains in our arena; under $10M for homes and condominiums on the Westside of Los Angeles, including the communities of Bel Air, Westwood, Beverly Hills, Santa Monica, Brentwood and Malibu. Perfect for Lynn and I; not so for most other agents.
I guess you could deduce from this that we are in an expanding marketplace? Not so, not at all. Now look at the same chart as measured by ALL individual transactions, for Beverly Hills and Santa Monica, in single family residences and condominiums. It sure brings home the original statement that individual transactions are declining rapidly, setting up huge fights in the agent community over listing contracts.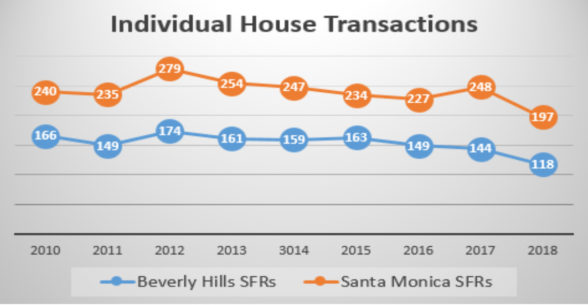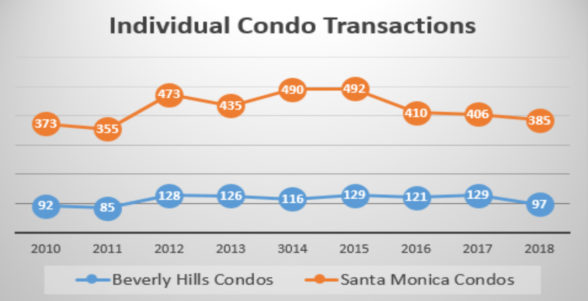 Another measure of this fascinating market can be found in some scatter charts I generated for Beverly Hills and Santa Monica, both single family residences and condos. These are two very similar communities in their pricing, except for the extreme upper end ($10M+). They command some analytical skills when you are trying to discern the "sweet spot" of the market to focus your advertising budget on. As you can see, Beverly Hills may extend up into the $30M area but Santa Monica reflects a stronger concentration in the <$6M market. They do share a little similarity in their $/sq ft numbers.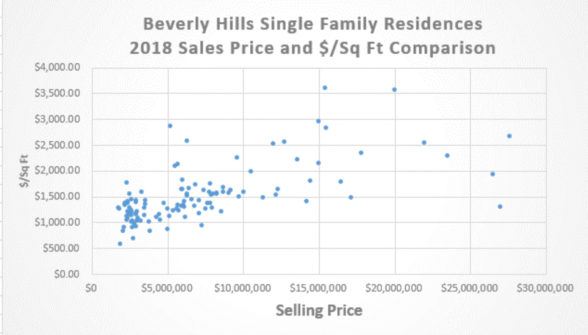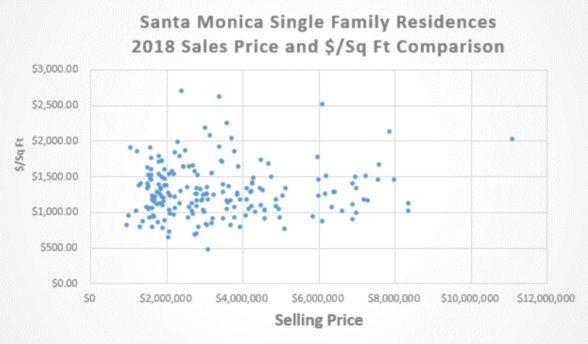 Let's take the same look but at condominium sales for 2018. There was a big difference in volume; Beverly Hills showed 97 separate sales in The MLS in 2018 while Santa Monica showed 387. But look at the concentration in $500/sq ft to $2,000/sq ft. Very similar.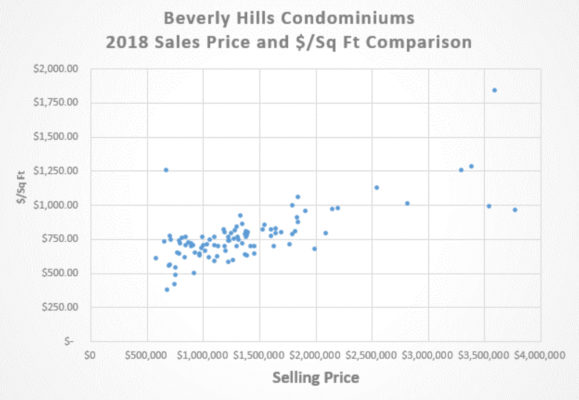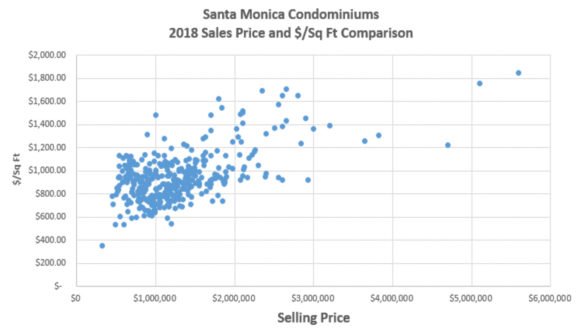 If I was to take the time and generate scatter charts showing the past four years in different colors, what you would see would not be much different in concentration, only in volume.
Now let me address the issue of Purple Bricks and other discount brokerages. It's simple common sense. If you needed heart surgery, would you take your business to the cheapest cardiologist in town? Of course not; you want the best skills available and you will search out the single best physician for your cardiac surgery, no matter what the price.
Real estate should be no different. This is normally the single biggest asset in everyone's net worth. Why would you trust the negotiations to some newbies fresh out of college, because you may save 3% or 4% in commissions? Trust me, your savings will look minor when you realize they sold the house 10% under the industry averages for your neighborhood, because they got outmaneuvered by a seasoned veteran who ran circles around them during the negotiations and in escrow.
Let's look at reality. I'm a 65 year old real estate agent with over 40 years of experience negotiating transactions in the used machinery business and real estate. And I'm actually the tougher negotiator between Lynn and I, although a lot of people think otherwise. Let me tell you, if you're my client and I have an opening to brutalize the other side because of something stupid their agent did, you can bet the farm on the fact that I'm going to exploit that opening on your behalf and make the agent and their client pay dearly. If it's one of these discount brokers that sends in some kid barely out of diapers, I just love it. Come to papa.
Someday I'm going to run these numbers by retail and discount brokerages and compare the $/sq ft and median selling prices and DOMs (days on the market) between the two. I have no doubt what the results will be. Maybe that's a topic for the March blog.
Don't forget that old adage; you get what you pay for.
Now let's address the battles behind the scenes in the agent community. Our office at Coldwell Banker with 240 agents is the top gross office in the country, and we have more than our share of agents who need to check their egos in at the front door. Otherwise, their heads wouldn't fit through the six foot wide doorway.
Look at the second and third charts. There are too many agents chasing too few listings. The competition has become very intense, resulting in epic shouting matches. I think that's all healthy because we need a good shake-out, but I don't mind telling you it's going to get worse before it gets better. A lot of younger and inexperienced agents are going to washout and become statistics. I feel sorry for them.
Lynn and I are moving forward with two new buyer's agents joining our team; Barbara Babchick and Cathy Chermak.
Don't forget us if you are selling or buying property, or if you know someone who has those plans.
See you next month.
Mark