Dear Friends,
Lots of stuff to bring you up to date on. All of it is very interesting.
1.
According to Realtor.com
"The Top 20 Hottest Markets in the United States in April" were;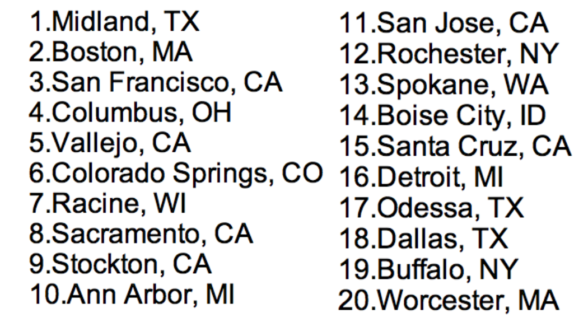 I might be missing something, but do you see Beverly Hills? Bel Air? Brentwood? Palo Alto? Newport Beach? I'll tell you why. If you read the article carefully, you see that they define the "hottest" markets as the ones where the homes move the quickest; they have the lowest DOM (Days on Market) stat. California has historically dominated this list, always retaining the top spot and in March holding 13 of the top 20 spots. Now we are dropping to 6 of the Top 20.
I think that's all good news. My previous Branch Manager once called me the worse agent in the business because I try and persuade my clients NOT to sell their property unless they absolutely have to! Why should they? It's an expensive proposition, it's stressful and if you don't HAVE to sell why add that chaos into your life? Looks like a lot of people feel the same way.
2.
Patch from Livermore, CA reports on what we are all thinking; what are my taxes going to be for 2018 with the new tax laws? Those of us in California have a unique issue; "California is one of only six states where more than 8 percent of tax units will see an increase." Thanks to the limited nature of SALT (state and local taxes) deductions, some people think their federal taxes will increase with higher taxable income. Others think it will be offset by the elimination of the AMT (alternative minimum tax), and still others think it will be offset by the reduced federal tax on pass-thru income from LLC and other partnerships. None of us really know until we sit down in January with our accountants and go through our 2018 records. But if you have high property taxes, live in California, have a large mortgage of $1.0M, and no offsetting income sources that are LLCs, then you can probably bet you are going to be one of the 8.6% of Californians who will see an increase in their federal taxes. "On average, after-tax income will increase 1.8 percent and the overall average tax cut is $1,330. In California, after-tax income will increase 1.5 percent and the overall average tax cut is $1,150." If you are a geek tax/stat guy like me, then just email me and I'll send you the article.
We celebrated our 42nd anniversary this week. Even my best friend Jim is in shock that she has tolerated me this long!
Can you imagine?
4.
Sales of condominiums along the Wilshire Corridor continue to follow the drop in inventory we are seeing across the country. For 2015 – 195 units sold. For 2016 – 145 units sold. For 2017 – 145 units sold. And for 2018 – we are on target for 126 units to sell by years end. Those are huge drops in a short period of time.


5.
I just spent two days in Evanston, Il home of the Rotary International HQ, training for a new position involving global grants. I have found Rotary to be one of the most fulfilling things I've ever done, and if you are interested in a charity that promises to keep you grounded by offering numerous hands-on experiences, then call me. I'll hook you up with a Rotary Club near you. Unless you live in North Korea, mainland China or Cuba, there is a Rotary Club near you! I don't consider myself a judgmental person, but I will be if you're not involved in your community on some minimal level. It doesn't have to be Rotary; there are many worthy organizations in your back yard such as the library or schools. Let me tell you, holding a baby in Guatemala with spinal problems, hugging a mother in the outskirts of Bogota who is crying because her 5 year old has his first pair of shoes, sweeping up the trash in a building so it can be used for after school programs in Panama, painting a playground in Mexico, or listening to a concert played by 10 and 12 year olds with their new instruments (they played horribly but it was the best concert I've ever been to in my life) are some of the international experiences you get from being a member of Rotary.
6.
How about some real estate news? Let's pick on Brentwood, an amazingly gorgeous bedroom community immediately west of the San Diego Freeway. But it's still part of the city of Los Angeles. I like the stats on Brentwood because they're reflective of the schizophrenic nature of the current marketplace.
Using data from The MLS, single family residence homes only, and YTD for 2018 and same period 2017;
75 homes sold 2017, 87 in 2018. That's a tiny bit more inventory hitting the market, telling me that some homeowners are cashing in on their equity because they might feel we are at the height of the market. Maybe. It's too small of a difference to be a significant statistical marker.
$4,824,193 average list price in 2017, $4,451,275 in 2018. Tells me a little pull back on the market as sellers get a little more realistic about the true value of their homes.
$4,576,053 average sold price in 2017, $4,350,901 in 2018. Same thing here, justifying my previous conclusion.
A 5.2% reduction List Price/ Sold Price in 2017, 2.3% in 2018. Looks like the pull back on the market includes a tougher seller position in negotiations as buyers get tougher.
An increase in $/sq, at $1,087.25 in 2017 to $1,130.98 in 2018. That's only a $42/sq ft increase, also too small to be labeled a significant statistical marker.
Time on the market remained very close, 64 DOMs in 2017 and 68 in 2018.
What does it all mean? It simply means Brentwood is in transition, and to some extent, so are her neighbors in Bel Air, Westwood, Santa Monica and West L.A. Transition here means topping out and remaining flat, for the time being.
Good news. As I write this, I just learned that our $5.0M listing in Brentwood went into contract. Good news for us, and for the sellers. I'm still pushing a 4-unit income property in Rancho Park for $2,495,000 and a 2+ den condo in Beverly Hills for $1,995,000. Homes and condos are still moving so call me if that's coming up in your future. And I promise, I'll tread lightly as I try and talk you out of it!