I'm back! Did you miss me?
INTRODUCTION
My inbox is full of data and information that I want to share with you, but I have to be brief. So let's talk about our new home at Compass and what it has to offer, some data on a changing market and an introduction to interesting talking points from Compass.
COMPASS CONCIERGE
Our move to Compass coincided with a flurry of new business. We are about to close our 8th escrow in 80 days, resulting in almost $18M in property sales.  Four more properties are going to hit the market in September and there's still more in the pipeline.
Compass is not a real estate company; it's a high-tech company doing business in real estate. The approach, environment, and corporate culture is diametrically different, and in all ways very positive, but comes with a tremendous learning curve.
Let me give you an example.
Lynn and I are very open and straight forward in our conversations with clients; we tell them what they need to hear, how much they should list it for, what to expect, and then let them make their final decisions. On about 10 or 12 listings each year, we need to deliver the tough message that their home is in need of varying degrees of some TLC. Sometimes it's just a clean out of clutter, and other times it includes paint, new carpet, handyman repairs, deep cleaning, mold remediation and staging.
But that's a tremendous leap of faith, to spend $20,000 or $30,000 up front to help their home sell quicker and for more money, but without any guarantees. Compass recognizes that issue and has put together a program to address these financial concerns.
Compass Concierge will provide those services at NO CHARGE, NO EXTRA FEES, NO INTEREST.  Of course, they want to know that you will pay them back out of escrow and will require a written agreement. This has been a tremendous boon to many of our clients; we have been with Compass for about 80 days and already on our fourth listing using the Compass Concierge service.
There's more. Soon, they will make available market interest loans for clients who want to buy their next home before selling the existing one but may not have the liquid funds to do so.
And there's more coming down the pike. If you ever have the time, come visit me at our new office on the southeast corner of Wilshire Blvd and Beverly Drive in Beverly Hills and let me give you the tour. There are tons of support staff, from IT to transaction coordinators to product experts to marketing to advertising and more. Seven conference rooms set up for easy telecommunicating and white boards, printers named after the characters in The Office, and more.
IS THE MARKET CHANGING?
Now let's talk about real estate values. There has been a lot of noise in the media about a cooling off or even a recession, after the longest expansion in our history. Here again, we need to understand several principles in terms of discussing real estate:
Real estate is very geocentric, meaning it only pertains to your immediate area,
Real estate negotiations are restrained by an agent's license and the transparency that comes with having all sales recorded in the public domain, and
Real estate transactions are highly litigious and subject to numerous documents throughout a sale.
Let's take a look at a crazy cross section of data I spent two days putting together. Check this out:
(Area 01) Home sales in Beverly Hills,
(Area 05) Condominium sales in Westwood and Century City, and
(Area 07) Residential Income property sales (4 units and under) in West Los Angeles.
In each one of these areas, I pulled out the MLS data from August 1, 2018 through July 30, 2019, for four data points:
Selling Price as a Percentage of Listing Price – to measure the change in power from sellers to buyers as the market changes,
Days on the Market to measure how long it takes to get into contract which would indicate an increase in inventory,
$/SqFt to measure if and when values actually start to drop as a precursor to a recession, and finally,
Units as a measure of the actual individual sales in each category.
I am looking for the trend lines that would highlight any red flags and merit further research. That might tell us if the market was changing from a seller's market and if it was leading to a housing "correction" (i.e. recession).
Take a look at the charts yourself. (No sales were made in Income properties in Area 07 West Los Angeles during this past November so you will see a gap.)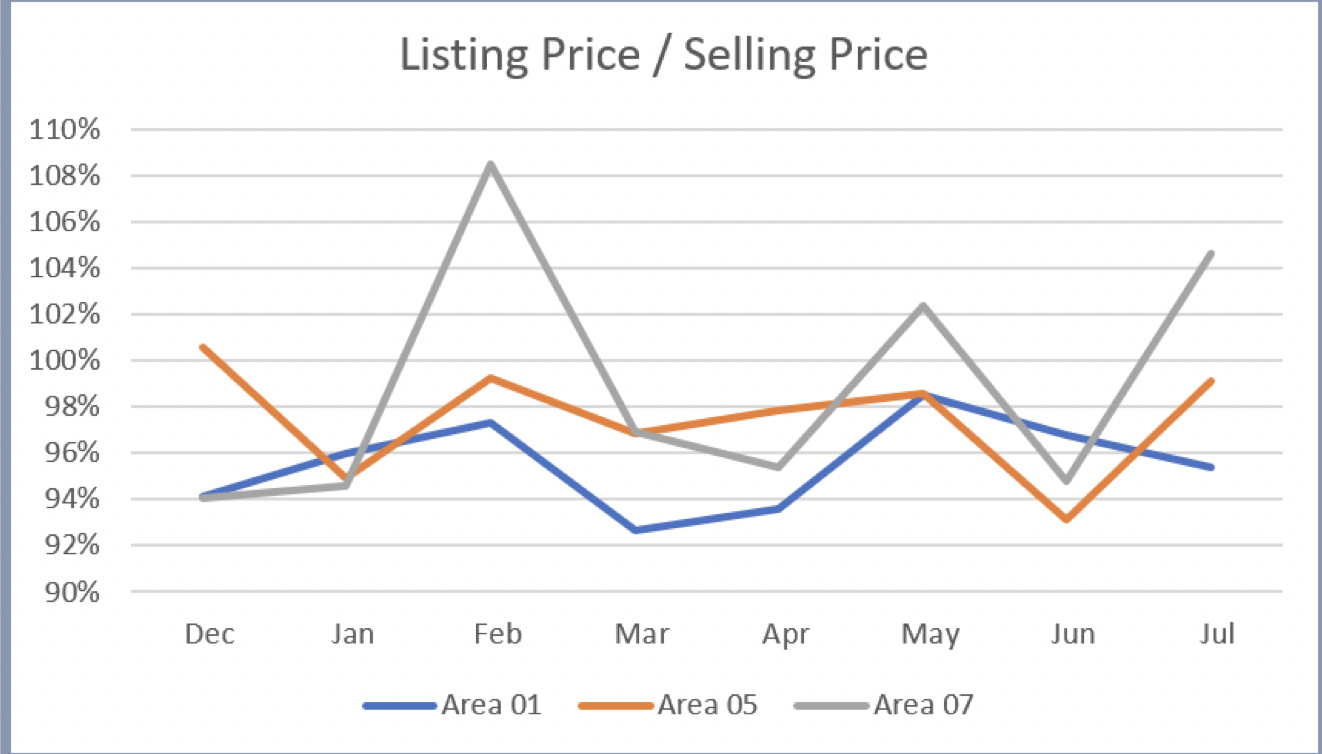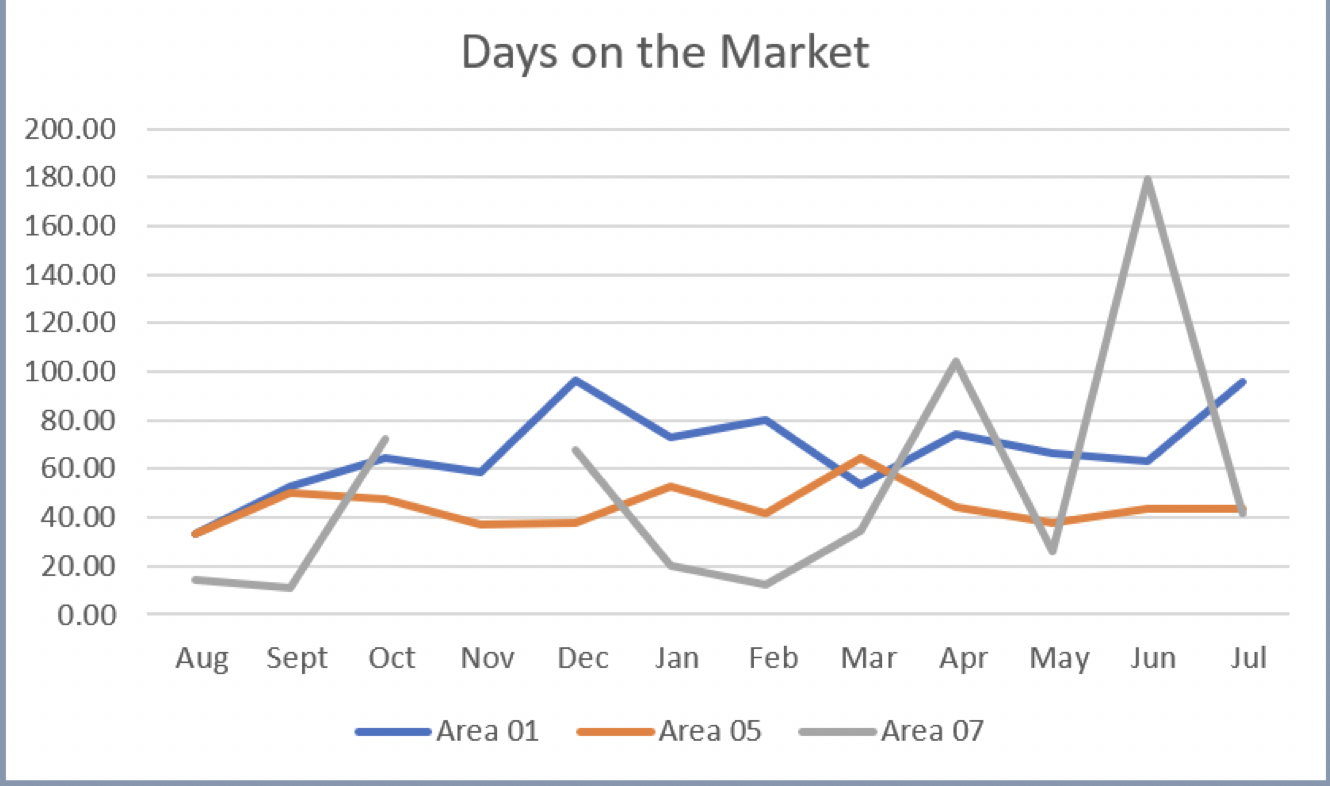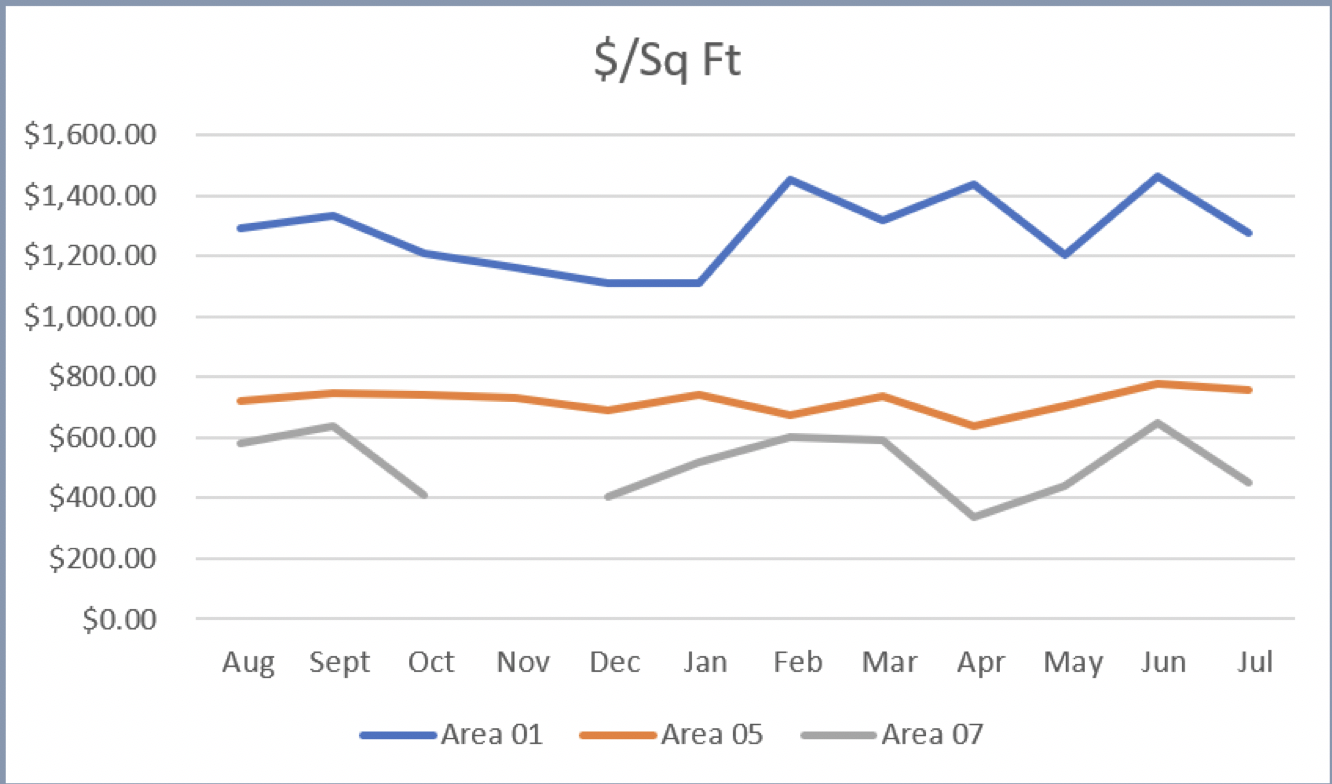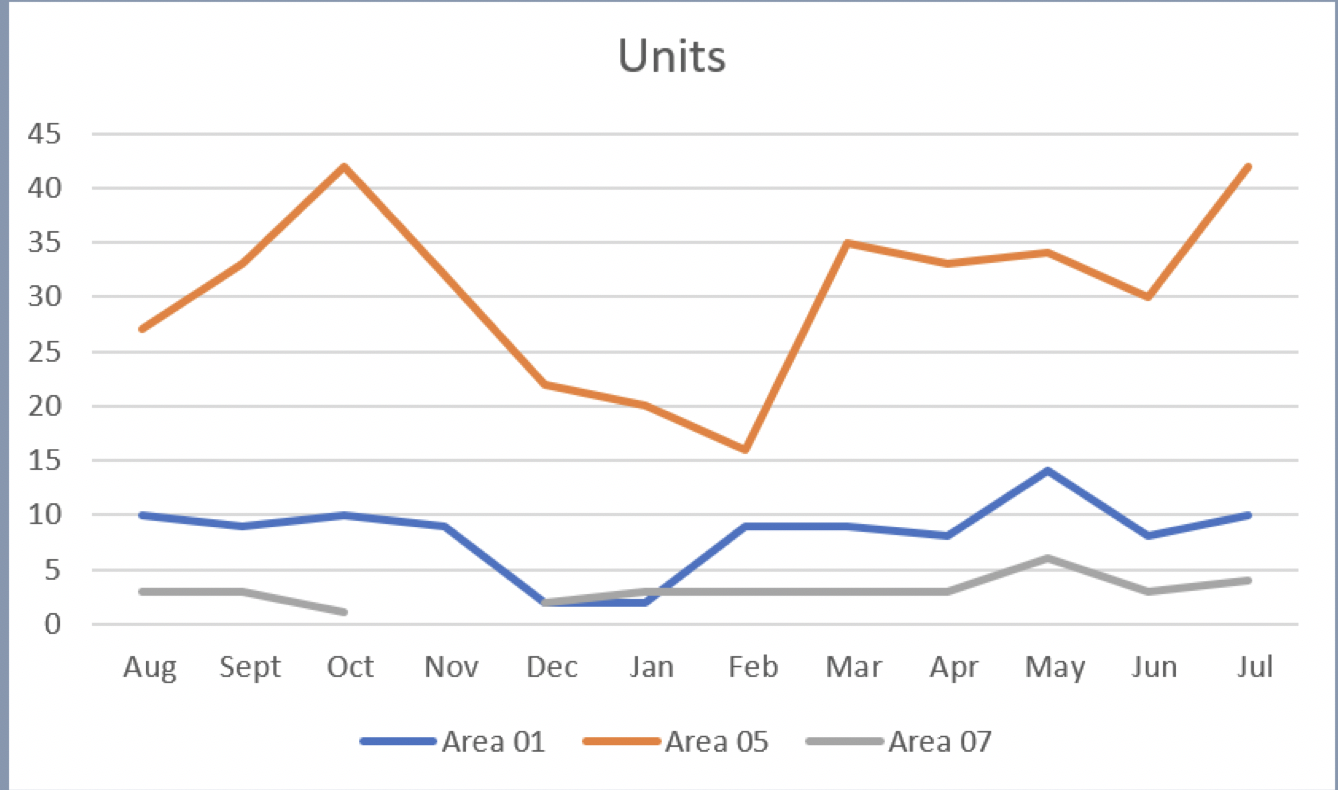 I believe we are overdue for a correction; in the stock and bond markets, but not necessarily in real estate. That may be different in Austin or Boise or Nashville, which are more representative of the United States of America. If there's going to be any movement on Wall Street, it will most likely come about based on news about the upcoming election. 
CONCLUSION
At most, I see a little flattening of the trends, but certainly no change that would indicate movement towards an equal playing field between seller and buyer. Maybe an argument can be made that there is a very slow rise in Days on the Market.  It's still a seller's market in all areas, just not as much so. West Los Angeles, from single family residences to condominiums to income properties, remains a highly desirable place to live, which puts the Sellers in charge.
DAILY FACTOIDS FROM COMPASS
You'll love this. There's an interesting agent working at Compass New York named Leonard Steinberg, and he has the title of corporate evangelist. Each morning he has an intriguing email into all of us with tidbits of information, specially collected properties around the country and his own thoughts on any subject that hits him. If you would like me to forward his daily emails, let me know.
Here's some excerpts that I found interesting recently.
DID YOU KNOW? A recent article dramatically highlighted how New York City lost the most residents in 2018 of all major US cities – about 200,000 residents, certainly a significant number of people. What it failed to mention was that as a percentage of population (2.3% of its 8.6 million population), it was less than Los Angeles who lost 3% (120,000 people of a 4 million population) or Chicago who also lost about 3% of its population (84,000 of its 2.7 million population). While these numbers are high and may be attributed to the appeal of high taxes and the reduction of the SALT deductions, they may also be attributed to the much larger chunk of baby-boomers retiring as many moved to Phoenix and other parts of Florida known most to attract retirees
DID YOU KNOW? The drop in mortgage rates is one of the key reasons why it's unlikely there will be a housing downturn as vicious as the one we saw between 2008 – 2010. It takes about 6 months for the effects of a large mortgage rate change to show up in the housing data. Pent-up demand is building as buyers take a wait-and-see approach to the economy.  90% of U.S. mortgages go to borrowers with a score of 650 or better. 75% go to borrowers with scores of better than 700. Meanwhile, the average credit score for the 50th percentile is about 760. (Financial Samurai)
DID YOU KNOW?  Warren Buffet made about 95% of his wealth since the age of…..60! Never underestimate the earnings potential – and wealth creation – of those more senior in age!
We've all seen how the rates have dropped and there may be more drops in the future. Buyers are still out there, watching and negotiating. Inventory is still very low, leaving the sellers in charge. It's a greats time to sell your home if that's on your agenda for the future. Call us now and let's discuss the details!
My best wishes and don't be a stranger. My next blog will have information on our upcoming listings.
— Mark Rogo