I'm sure we are all happy to see the year 2020 now in our rear-view mirror, saying good-bye to one 12-month stretch of time that saw a pandemic, focus on the historic friction between the black community and law enforcement resulting in riots in our streets, a divisive election that polarized the country and financial hardships delivered to those communities that can least afford them. It was a horrible year by all accounts.
There were a few bright spots. Murphy's Law proved to be alive and well by delivering a World Series Pennant to the Los Angeles Dodgers during the one year that no one could attend a world series game. Thank you, Mr. Murphy.
Another bright spot was my daughter Marcie.  She has been staying with us to keep us company and it has been nothing short of a dream. She also has her one-year old Brussels Griffon puppy (Roogie Rogo)  who is as adorable as you can imagine. But all good things come to an end and she's leaving in a couple of weeks to resume her work as the marketing guru for a start-up in Northern California. ☹
Real estate plowed forward after coming to a temporary standstill at the beginning of the pandemic, while buyers and sellers both scratched their heads trying to figure out how Mr. Covid's visit would affect property values. Here's the average Days on Market for Santa Monica. You can see the wide swing in the highlighted area starting with February 2020.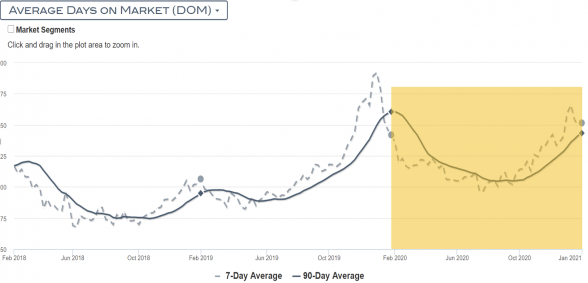 Even more so in Beverly Hills.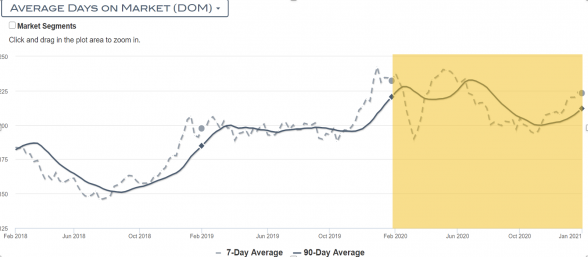 The overall picture for Beverly Hills wasn't so bright, as you can see by the line graphs here in this following chart.
By most measures, the recent activity is not moving in favor of sellers, such as median list price, Days on mark,
price increased and $/Sq Ft.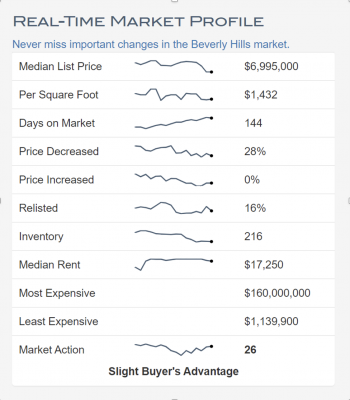 It turned out to be a banner year and real estate values continued marching on, more so on the lower
end market than the higher end. In fact, the upper end seems to have hit a ceiling in 2017 and is pulling back a little.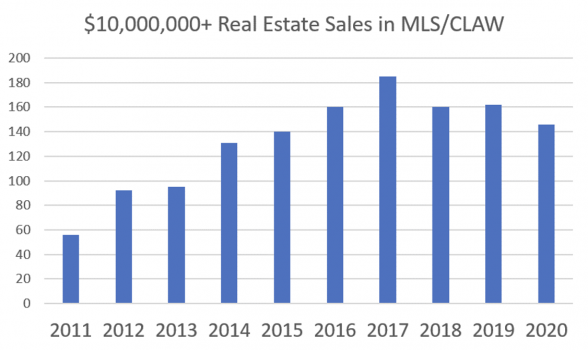 The $5,000,000+ market mirrored the same.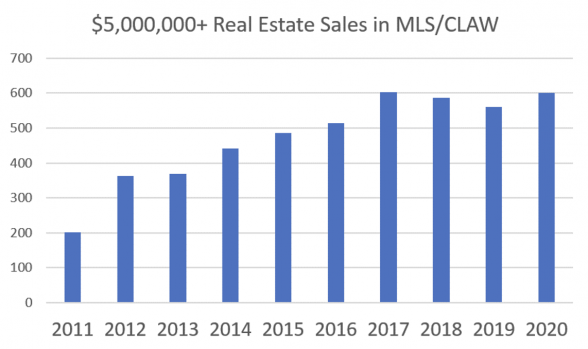 (As reported in the MLS for CLAW, which covers all communities from downtown Los Angeles west to the Pacific Ocean).
Lynn and I are entering the new year with more inventory on the market and in our pipeline than at any other time. It appears to me that the seller's heyday of owning the market is coming to an end, and the negotiations are starting to move in favor of the buyer. Interest rates remain at historic lows, and I'm not sure how our huge deficit from the pandemic is going to affect the Federal Reserve's policies on mortgage rates and bank rates. The last White Paper said very little about it, even though it did express some reservations on the amount of debt being incurred by the federal government.
There are new rules prohibiting public broadcasts and marketing upcoming listings ("Coming Soons") to the general public, prior to their placement on the MLS. So if you're interested in our off-market properties coming up, you have to call me. If you happen to catch the boss, she can fill you in as well.
This visit by Mr. Covid will have long range socio-economic effects of the same magnitude as WWII, which changed the world order. I don't believe in high-risk investments at my age, but I do continue to believe in real estate as the most important part of my investment portfolio. It's grounded and real. You can touch it and feel it, and you can control its' destiny. You can't say that about the stocks and bonds being traded over exchanges.
Last July the intelligence community issued a statement identifying China as the biggest security risk to the United States. I believe that, and I believe in my lifetime China's GDP will surpass that of this country. I also believe that the Chinese government operates under a different set of rules and ethical standards than the United States, and it's the responsibility of our government leaders to address that inequity in trade, patent infringements, stolen royalties, massive copyright infringements and the intrusion on our privacy from their hacking industry. Watch 60 Minutes of January 31st and you'll see what I'm talking about.
The post-Covid world is going to be different in a number of ways.  But as Nora O'Donnell says on the CBS network news, "Stay positive and test negative".
— Mark Rogo, Executive Assistant to Lynn Rogo 😊