Wow, lots to talk about. But first, my favorite topic, the Los Angeles Dodgers.
I must confess I am enjoying the thought that the Dodger organization is once again struggling with their greed. After lining their pockets many years ago signing an exclusive broadcasting contract with Spectrum at the expense of their loyal fans, they now find themselves in the very uncomfortable position of possibly doing the right thing for their fans at the expense of their pocketbook. The county has moved into the red tier which will permit 11,000 fans to attend a Dodger game, instead of the current 600 fan limit. But how do they balance that in a way that allows fans to purchase tickets or the interests of the 30,000+ season ticket holders, and then figure out how to keep the season ticket money? They're not going to like their options; I love it.
RESOURCES
Congressman Ted Lieu puts out an excellent bulletin that gathers information from a variety of sources, and I highly recommend you sign on.
• Need health care? Enroll now! Due to COVID-19, Covered California established a special enrollment period that allows any eligible Californian to enroll in health coverage through May 15th. If you've lost your job and health care because of COVID-19, you can shop and compare new plans and get covered for 2021 at CoveredCA.com.
• The IRS announced this week that it will extend the 2020 tax filing deadline for individuals to May 17th, 2021. For more information, please click here.
• For updated data on COVID-19 cases and hospitalizations in California and LA County, please go to update.covid19.ca.gov and publichealth.lacounty.gov.
• Sign up to get notified when it's your turn to receive the vaccine.
• CDC's guidance for coping with stress and anxiety during a pandemic.
• If you need someone to talk to, please call the LA County Department of Mental Health hotline at (800) 854-7771 or text "LA" to 741741.
• Opt-in to receive notifications if you've been exposed to someone with COVID-19.
• If you are in need of food assistance; housing relief; information about COVID-19; and more, please call 2-1-1 or visit 211la.org.
• Get your flu shot to stay healthy this season.
• Learn about vaccine misinformation and how to avoid vaccine scams.
• How COVID-19 vaccines work (CDC).

As more vaccines continue to be distributed across LA County and California, we are hopeful for a safer and brighter future. However,
we must not let our guard down in the fight against COVID-19.
Please continue to wash your hands frequently; practice social distancing; and wear a mask in public.
For more information on COVID-19 and vaccines, please visit covid19.ca.gov/vaccines and VaccinateLACounty.com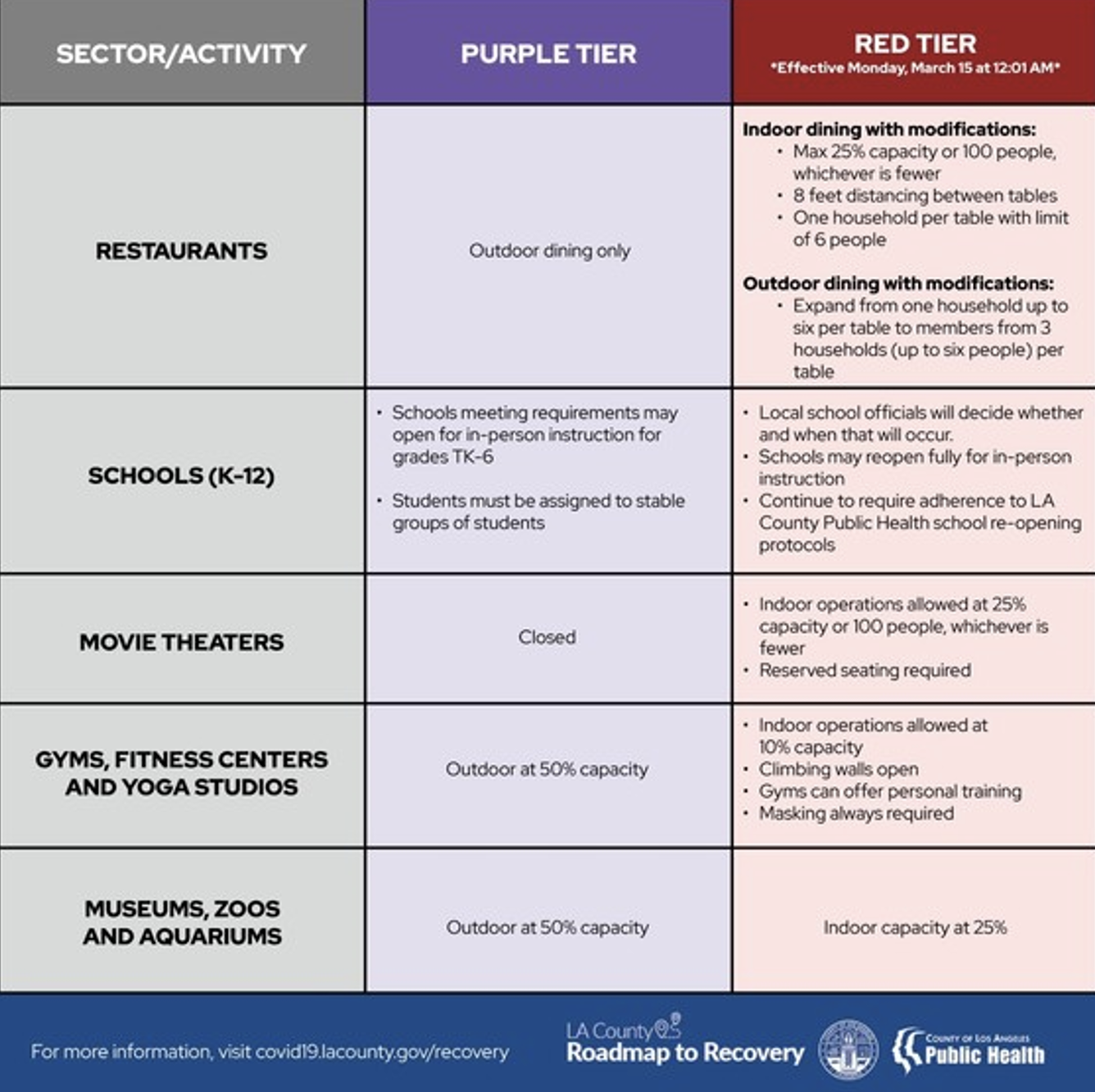 Another excellent source of data and quantifiable information is the firm Marcus & Millichap. They distribute a comprehensive overview of all aspects of the multifamily real estate market. Allow me to highlight their 2021 outlook;
• 109,200 jobs will be created in the metro area, recapturing over a ¼ of the "…417,500 positions lost last year, translating to employment growth of 2.6 percent."
• 14,040 units will be completed" in construction, increasing "…inventory by nearly 1.3 percent in 2021."
• Vacancy will climb 50 basis points "…to 5.0 percent this year as a record volume of apartment deliveries outpace demand."
• My favorite topic – "Rent" – a 2.1% decrease – "Rising unit availability in higher-priced submarkets and elevated supply additions will limits landlords' ability to push rental rates, dropping the average effective rent to $2,175 per month. Last year, the metro's average rent decreased by 4.8 percent."

Then there's always the Wall Street Journal, which I find to be a terrific source of balanced analytical reporting.
Today the WSJ reported that "at the end of January, there were 1.04 million homes for sale. That is down 21% from a year earlier and the lowest on record going back to 1982". This inventory drought just won't improve.
The Journal also reported that the top 1% of income earners are hiding more of their income than originally thought, according to a research paper written by some academics and two IRS senior agents. "Overall, the paper estimates that the top 1% of households fail to report about 21% of their income, with 6 percentage points of that due to sophisticated strategies that random audits don't detect." Ouch. I resent that the rest of us are paying their share of the tax burden, but that's nothing new with the super-rich.
How do you define the top 1% of earners? Let's look this up. There's a lot of confusion about this.
Economic Policy Institute defined it as the top annual wage earners in the United States, according to the IRS.
• The top 1% earn at least $758,434.00
• The average worker earns $57,535.00

But if you look at dqydj.com (Don't Quit Your Day Job) they'll tell you in order to qualify for the top 1% of household income you should earn $531,010.00 while the average worker is earning $97,973.61. Go figure.
The top 1% by net worth is different. This gets interesting, because so much of our net worth is tied up in real estate living in California. On the average in the United States, the top 1% by net worth means your household wealth is worth at least $10,374,030.10 (don't forget the ten cents!), according to Forbes.
THE NUMBERS
Finally, let's take a fresh look at the real estate numbers in the local west Los Angeles market. Let's look at all of our westside communities and divide them into three sectors; before (March 2018 thru March 2019 and March 2019 thru March 2020), and during Mr. Covid's visit (March 2020 thru March 2021). He's still visiting us, but with the accelerated vaccines and the numbers trending down, people are starting to feel better about the future and beginning to see the end of a very dark chapter in everyone's life.
Let's look at the fifteen westside communities, as defined by the MLS.
• Beverly Hills
• Beverly Hills Post office
• Sunset Strip / Hollywood Hills West
• Bel Air / Holmby Hills
• Westwood / Century City
• Brentwood
• West L.A.
• Cheviot Hills / Rancho Park
• Beverlywood
• West Hollywood Vicinity
• Venice
• Marina Del Rey
• Palms / Mar Vista
• Santa Monica
• Pacific Palisades

The first two time periods roll up to one year ago, when the lockdown was announced in California. You will see by the charts and the numbers what an impact it had. Yet curiously enough, this impact did not confirm to any standard; it was different in each area and not with any rhyme or reason.
This is data taken from the www.themls.com and is dated by close of escrow, as reported by the listing agent. Be careful because Excel reverses the order.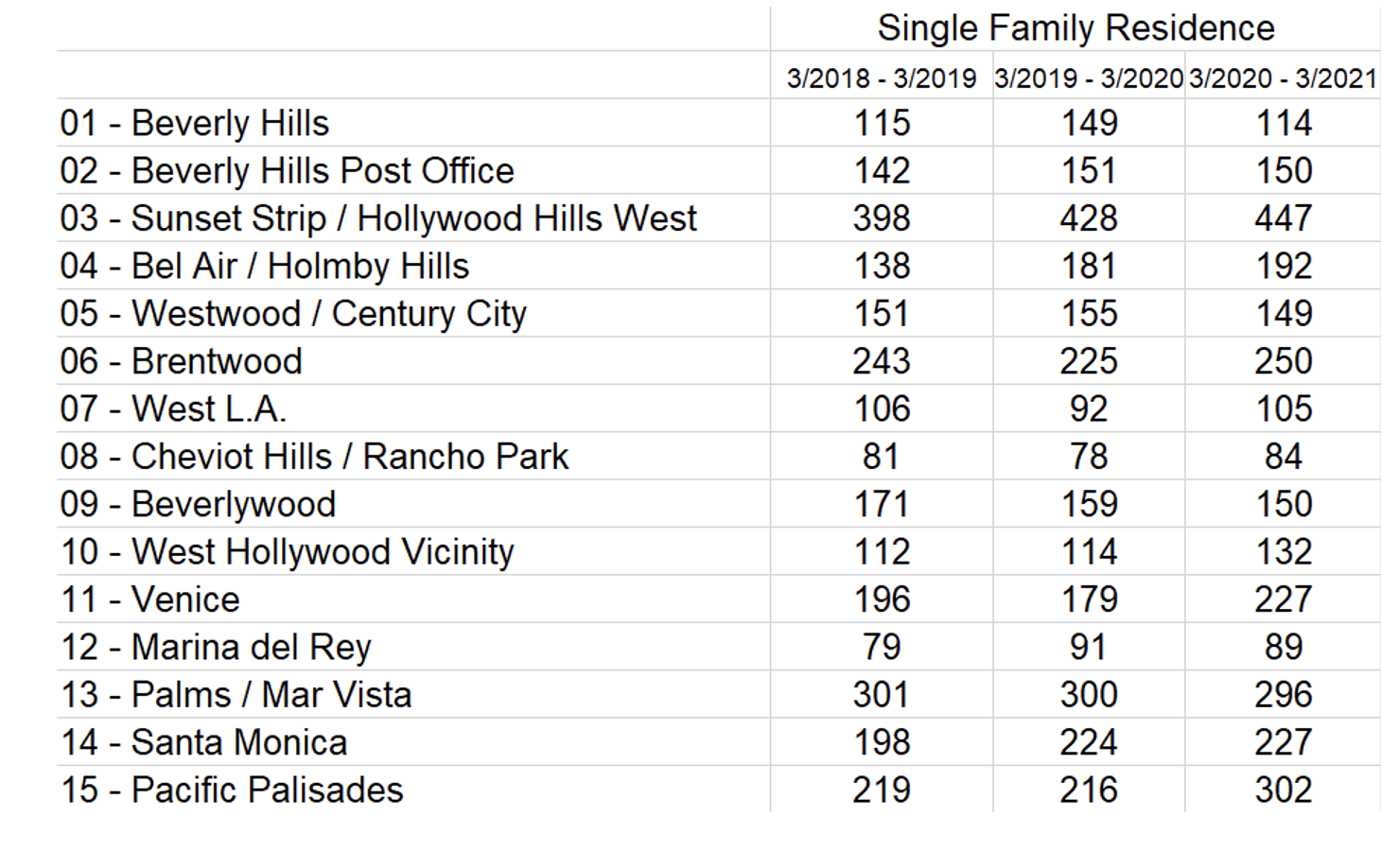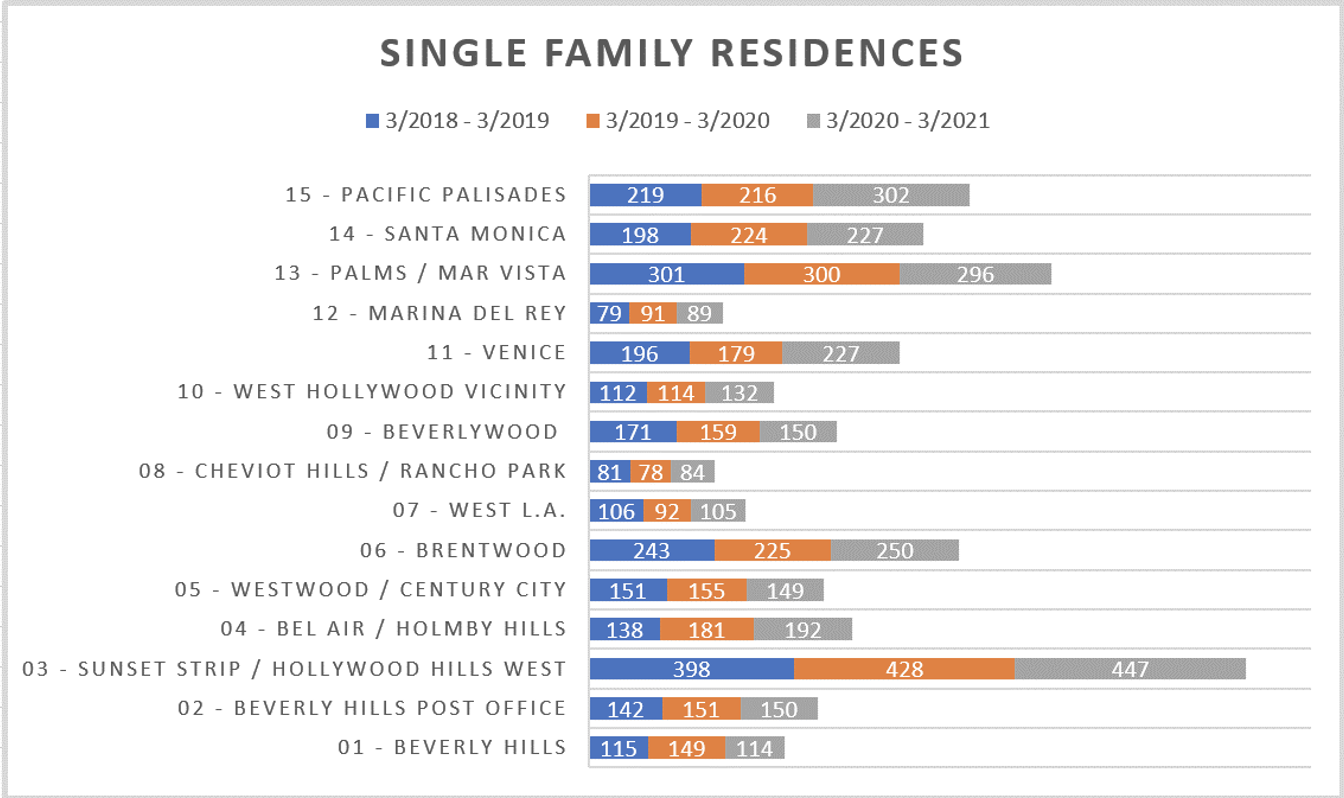 Here is the same data but for condominiums.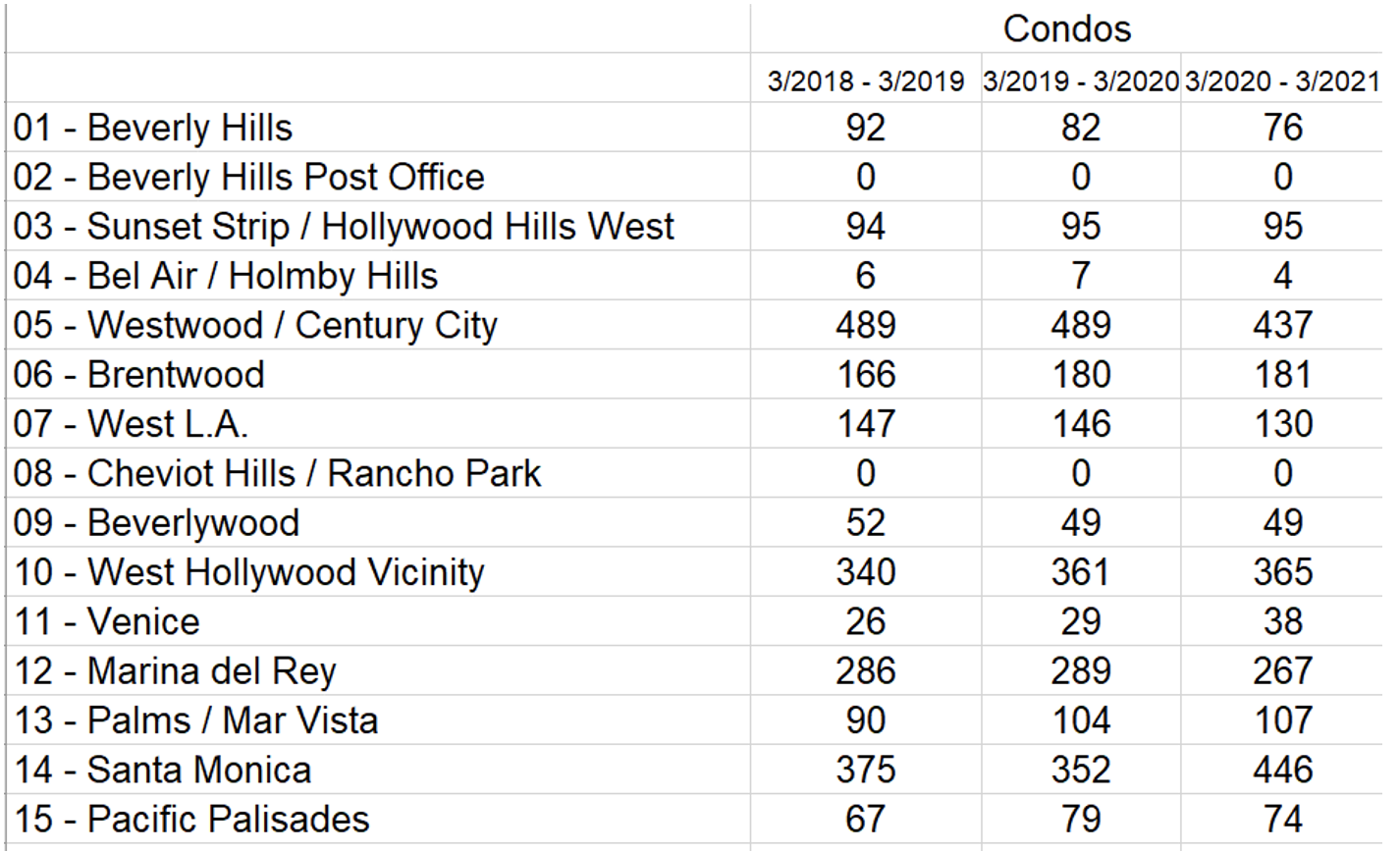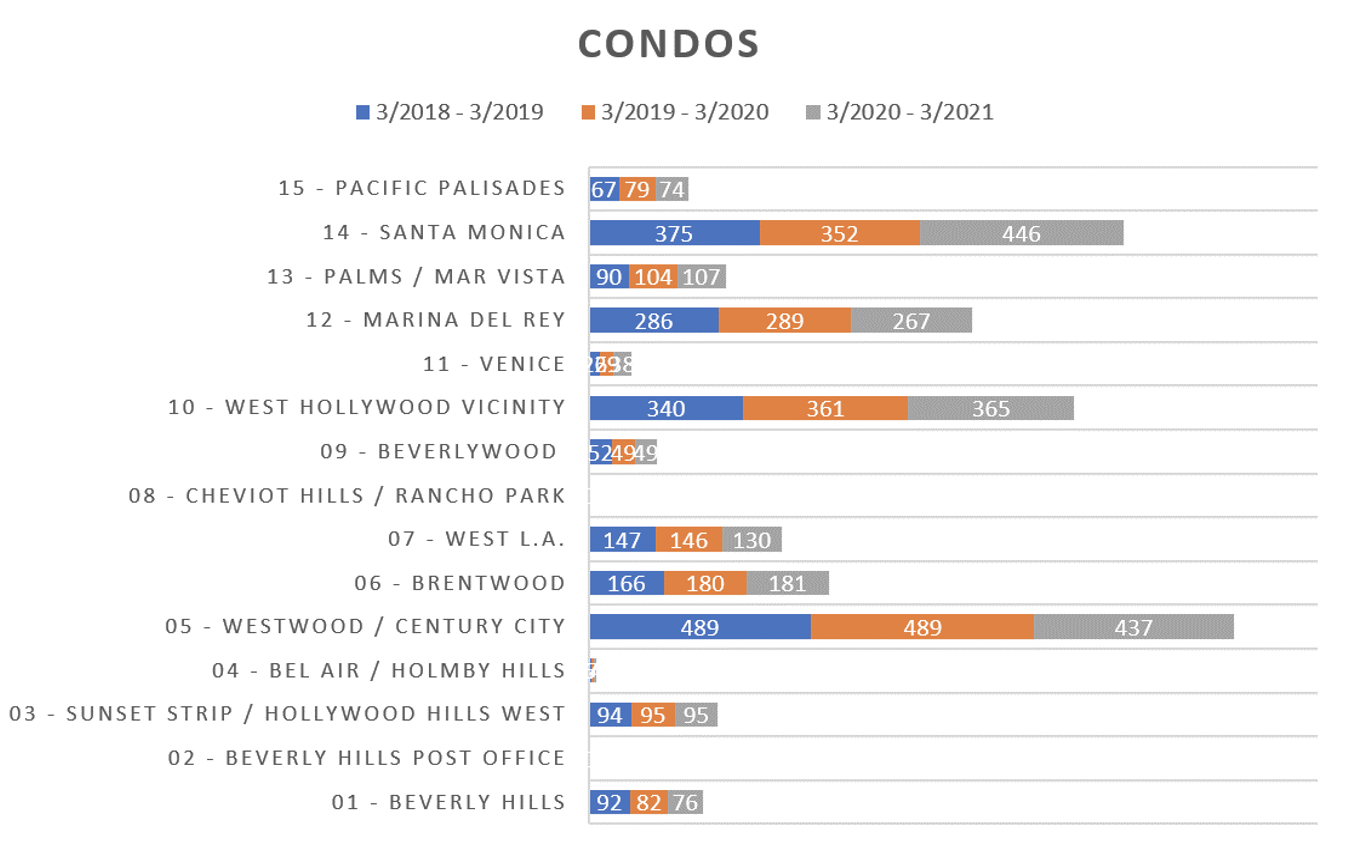 There's so much more to talk about, including interest rates, income properties, changes I see coming up in the tax laws and the possibility of the Wilshire Corridor returning from the dead after being dormant for a year.  There are also six properties we are launching over the next four to five weeks, but you have to call me personally about that. The new rules don't allow us to give specifics until 48 hours before we place it on the MLS.  If you want to know about them two days before the rest of the world, don't worry.  If you're receiving this from me, you're on the list.
— Mark Rogo