One of the interesting things about this current real estate economy are the creative ways agents are able to  bust their listings through the edge of the envelope. Even though prices continue to rise, buyers are not stupid, and properties that are priced beyond the boundaries of reality remain on the market for a very long time. Listing agents are still bound by the constraints of the comps and the perception of value by the buyer community. So what are they supposed to do to push values higher when it's required by the Seller? The answer is cosmetic repairs and staging.
Lynn and I are in our fifth year of working with a very efficient and cost-effective crew to "clean up" a property that meets certain criteria. The property must either be a complete disaster or decorated in thirty or forty-year-old style. The property itself must be strong enough to justify an expense of $10,000 to $30,000. But the rewards are amazing. In each of our recent staged properties this year, the additional investment did its job and not only generated a sale with a new high comp in $/sq ft, but also got the property off the market and into escrow earlier.
Let's take two recent sales as examples.
This past Monday, unit 802 in The Blair House closed escrow for $925,000. It was listed at the same amount and on the market, closing at the second highest dollar amount for the 2 bedroom units in the building.  The highest was updated and refurbished, while unit 802 only added paint, carpeting, staging and cosmetic repairs.
On Thursday, we closed unit 1008 in the Wilshire Manning for $1,250,000, which also was the listed price. This unit was in complete disarray and needed quite a bit of TLC.  But after being staged, it received numerous offers almost immediately and closed escrow as the third highest $/sq ft for the past five years.  What makes this so interesting is that the other units were the penthouse and on the 18th floor, almost twice as high as our unit in question plus offering far better views. (see chart below)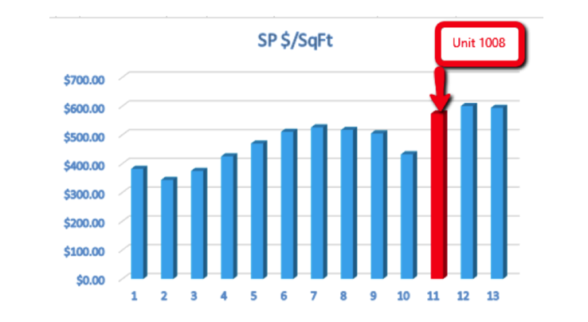 We have been able to develop an excellent team of painters, handymen, electricians, stagers, and carpet installers, who work very expeditiously and inexpensively. Each and every time they've done the job, getting the property sold at a very high number.  Next time you consider selling your property, consider this and call me;
You will sell your property for approximately $100,000 +++ more than it's really worth.
You will sell it sooner, thus minimizing any carrying costs such as property taxes and HOA dues.
You will have less problems during the due diligence period and…
You will thank your agent for making you do it!
There is a lot more to this process, including the style and manner of the furniture.  It's not heady intellectual stuff and we can assure you that you will be happy with the results.